Despite the warning posted above, Italians and other European fans just can't get enough of Kamenashi Kazuya. After all, knowing how protective the agency is with their talents, seeing them abroad is like being able to break all the rules. Here are some news and tidbits that I gathered for Kamenashi's appearance in Udine for his movie "Ore Ore" directed by Satoshi Miki…
[All of these are rough translations]
[From Udine20 main website]
Far East Film 15: Kamenashi Kazuya- Satoshi Miki photo gallery
Special guest for the opening of the Far East Film Festival is Japanese pop singer Kamenashi Kazuya, an internationally renowned artist, whose presence has been acclaimed through web by all fans. Leader of the boy band KAT-TUN, one of the biggest in J-pop scene, Kazuya owes his name to the popular manga Touch.
At the world premiere of the comedy, "It's Me, It's Me", with director Satoshi Miki and the protagonist- the super pop idol Kamenashi Kazuya- many fans stopped to get an autograph or take a picture. [Photos posted here]
Fans of Japanese pop idol Kazuya Kamenashi are really crazy. Insane fans who asked for pictures and autographs lasted from 1.00am to 1.30 am after the screening of the last opening film of the 15th Udine Far East Film Festival.
[From genius-online]
Super Pop Idol Kamenashi Kazuya starring in inaguration to FEFF —by Sarah Gherbitz
"You are my sunshine … You are my shining star. You are Everything I'm not. Your awesome wit make me laugh, and make my heart smile".
"Every mad heart has now learned Why this time is so beautiful. In life's paths, you are in our eyes".
"Since we saw you, since we came to know you, Whatever sense we had, it just went away. You steal our hearts, you steal our wits"!
These are only some of the phrases that adoring fans bombarded the facebook page as super pop idol Kamenashi Kazuya is expected in Udine Far East Film Festival for the world premiere of "It's Me, It's Me" scheduled for Friday, April 19 at 22:30.
Dancer, singer-songwriter, actor, television personality, producer, radio host, model, Kazuya is a real celebrity. Not only in the country of the Rising Sun. The news of his trip to Udine was in fact anticipated by a loud ton on the social networks from all over Asia to South America.
The occasion was the world premiere of the comedy "It's Me, It's Me" by Miki Satoshi, which tells the surreal story of committed Hitoshi Nagano, an ordinary boy who one day like many others, suddenly begins to have strange problems with the pronoun "I," to having to 'multiply' in twenty different roles.
Launched by the slogan "The world is full of me" and likened to "Being John Malkovich"; the film is an adaptation of the award-winning novel by Hoshino Tomoyuki,winner of the prestigious literary prize "Kenzaburo Oe" in 2011.
Director Satoshi Miki,with an inseparable hat on his head, is a longtime friend of FEFF, which in 2008 had dedicated a mini-retrospective of three films, including "Adrift in Tokyo", a fairy tale on the road against the backdrop of a Tokyo dreamy and surreal atmosphere, which is strongly influenced by the style and the atmosphere of the American independent cinema of the 60s.
Obviously the highlight of "It's Me, It's Me" is the cosplay of Kamenashi, that in order to prove to the world that will become "Ore", without thinking about age or gender, will cover the clothes of 25 characters: from that of a large within the African, to that covered in tattoos all over the body, the career woman, the high school student.
Leader of the boy band KAT-TUN, one of the biggest in J-pop scene, Kazuya owes its name to the popular manga "Touch" (in Italian: Get the world and go) and, just like the protagonist, is a Baseball fan.
[Tidbits from "Ore Ore" presscon from Gian Paolo Polesini (@GPolesini) twitter feed]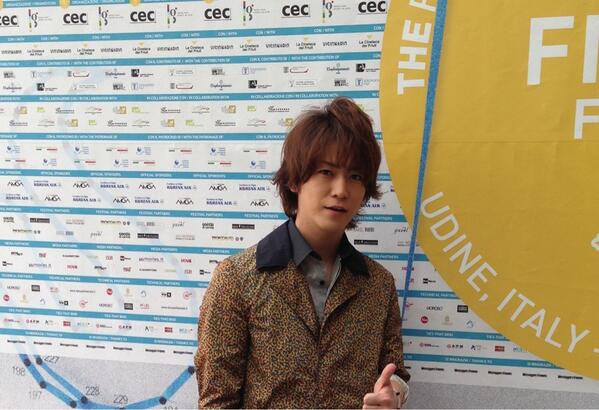 Polesini finds it incredible that every time he tweets something about Kamenashi, he gets hundreds of retweets. Polesini also added that Kamenashi's popularity is unbeatable.
Kamenashi said that he loves Italy, particularly Risotto and wine.
Kame also mentioned that it has always been his dream to go to Italy and would love to return with his band (KAT-TUN).
Kame also said that he loves Depp (Johnny Depp?) and he also loves the movie "La Vita e Bella" (Life is Beautiful). Music-wise, he likes nature sounds (really?)
Kame also said that it's the 1st time that he'll be watching the movie with his fans since it's impossible if he is in Japan.
[ From Yahoo!Japan]
Kamenashi Kazuya's 1st time in International Film Festival for "Ore Ore" World Premier, he signed autographs for 40 minutes!
Last Apr 19th, Kamenashi Kazuya attended the world premier of "Ore Ore" held at Italy for the 15th Far East Film Festival. The hall was filled with excitement as fans from Italy to neighboring country like Switzerland and as far as Hong Kong filled the venue.
Despite the late screening at 11:00PM, 1,200 seats were filled with no vacancy and the fans excitement heighten as Kamenashi enter the podium with director Satoshi Miki. "I'm happy to be here in Udine," Kamenashi greeted the audience, which was received with shrills of "Eek!" all over the hall.
Based from Hoshino Tomoyuki's original novel, "Ore Ore" tells the surreal story of  Hitoshi Nagano, an ordinary boy who one day like many others, suddenly begins to have strange problems with the pronoun "I," to having to 'multiply' in 33 different roles from high school students to busty beauty.
The movie received favorable response with laughters from audience from time to time. After the screening, fans flock around Kamenashi where he signed autographs and posed for pictures for 40 minutes.
"Though I know that overseas fans sometimes come to our concerts, I was really impressed to be here. This is the 1st time for me to be in a Film Festival and the first time that I watched the movie with the audience," Kamenashi commented.
Witnessing Kamenashi's worldwide popularity, Miki talks about doing another movie with Kamenashi and agreed that he's free anytime for Miki. As for further ambitions, the two would want to walk on the red carpet (in Cannes).
________________________________________________________________________________________________________
I just did a cartwheel because I'm so happy and proud for Kame. *sigh*. BTW, as you have noticed, there were some discrepancies with the news from Italian website in contrast to the Yahoo!Japan coverage like the number of minuted he signed those autographs, time of screening and so. The Italians also used "Kat-Kun" instead of KAT-TUN. LOL. Furthermore, did anyone notice why they have to add Kame's name origin down to labeling him as the "super pop idol"? Neverthelss, Kame is the BOSS.
Related News: Kamenashi Kazuya Aims for "Ore Ore" to be Shown in 33 Countries