Most dramas for summer have started so in between completing my reading list before school starts, I'm also checking-out most dramas that I find interesting or so…
Anyway, here is my occasional Rants & Raves…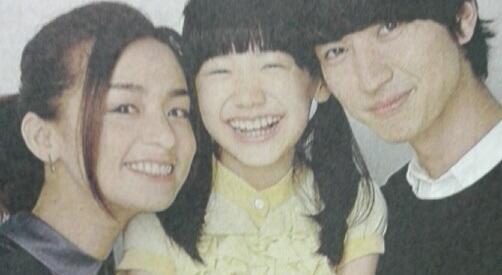 Kanjani8's Okura Tadayoshi will be this year's star of "24 Hr TV" drama special, titled "Hana-chan no miso soup". It also stars Machiko Ono and child star Ashida Mana. Okura plays the role of a husband and father; Machiko is his wife who is suffering from breast cancer and Ashida will be their daughter.
Rants : They included Ashida in the cast to boost the ratings. I don't see Okura as an effective dramatic actor after seeing  "100-kai  Naku Koto", and breast cancer? I'm not sure about statistics but breast CA is one of the most treatable cancer with high survival  rates especially in an advance country like Japan. They should have used a different disease.
Rave : Okura always get exposure nowadays.
Rant : Ooh, I also saw comments like, "Okura won't be dying but his wife…" and I'm like, why does someone always have to die? I hope that writers of "24 Hr TV" will be able to craft stories about hope and optimism without having the lead or the supporting cast in some incurable disease. There are so many situations wherein a person struggles and it doesn't neccesarily involve dying.
V6's Miyake Ken gets a new drama this Fall after 10 years! The drama is titled, "Hottoke nai majo tachi" about 4 sisters who manages an Italian restaurant.
Rants : First drama in 10 years, I wonder why he got hold back when the likes of Okada is doing taiga.
Rave : They all have their own strong points and Okada is one different level. Anyway, it's not like he is the lead in this drama because the 4 actress will surely take the center stage.
Johnny's going blond…it's all over from Nakajima Yuto, Yokoyama Yu, and Fujii Ryusei 
Rant : Nope, Yamada decided to be different.
Rave : I love Yuto but Yoko is the best. It must be his creamy white skin because the blond hair made him younger, whiter, and he just looks foreign- in a good way. He really owned the hair color and the hair color is very bishie.
 Johnny's super hit medley during THE MUSIC DAY
Rant : The sparkle, glittery, and colorful costumes had me puking rainbows.
Rave : Overall, it was cute. My favorite is the "Love so Sweet" performance. All the hotties!
Rant : The guys who did "Ultra Music Power" are obviously trying hard not to laugh that Kokubun decided to ditch singing any lines and just made fun of himself.
Rave : Favorite senpai–kouhai scene is between Joshima Shigeru and Yasuda Shota. XD
 Yamapi will do a cameo in Abe Aran's "Kinkyori Renai~season Zero~"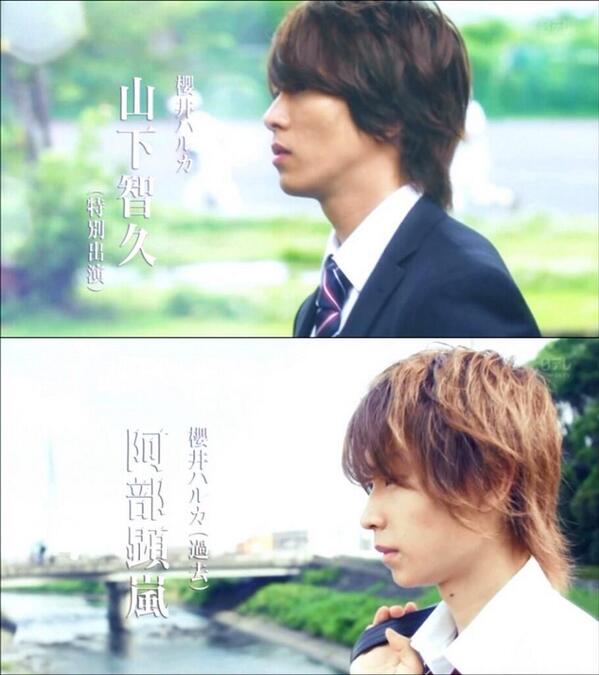 Rant : Promotion for the drama, promotion for the movie. Though they shouldn't have done the photography at this "angle" since there will surely be comparisons as how Abe doesn't look like Yamapi at all.
Rave : I really wonder how will this drama turn-out. I mean, Sakurai Haruka doesn't really seem an interesting person aside from being good-looking.
Single digit 1st episode ratings for Nobunaga no Chef season 2 (9.7%) and Suikyu Yankees (8.8%)
Rant : Will you still watch this?
Rave : Definitely. BTW, Suikyu's 8.8% is high considering that its late time-slot where most dramas would average 5% and so… Nobunaga should have been better if they stayed at their season 1 time-slot or maybe because they did a two-hour pilot episode which is just too much.
Jin Akanishi together with Yamapi and Nishikido Ryo stole a girl's phone? 
Rant : While I don't believe it, it's funny how Jin can still make trouble for Johnny's when he is no longer in Johnny's.
Rave : The tabloids must be tired of making rumors about Jin and Meisa so they decided to use his popular friends.
——————-