"Bits and Pieces" is a digest of summarized news revolving around Johnny's fandom. I decided to start to category out of laziness to translate but I feel the need to share this information.
Here is "Bits & Pieces" Digest 001 collated from Aug 4th to 6th. 
Golden time dramas are getting a decrease in ratings, starting with Kimura Takuya's "HERO" in which the 4th episode posted 18.7% in ratings. Quite a shame when the 4th episode had Otsuka Nene, one of the dramas original cast, as a guest.
Speaking of ratings slump, Tamamori Yuta's "Nobunaga no Chef" and Yamada Ryosuke's "Kindaichi Shounen no Jikenbo Neo" have experienced less than stellar audience share since their respective dramas started. "Nobunaga no Chef" remained sluggish at 7.1% while "Kindaichi" improved a bit at 8.8% from 7.7%. Even though Nakajima Yuto's "Suikyu Yankees" is a midnight drama, there has been a downward trend with its ratings as it's down to 5.8%.
Considering the slump in ratings, Inohara Yoshihiko's  wish that the 9th season off his drama, "Keishicho Sosa Ikka 9 Gakari" can get a 90% audience share might just remain a wish.
Speaking of wishes, Kanjani8's Yokoyama Yu is doing his best as this year's main personality of "24 Hr TV" as he helps in fulfilling the wish of an 11 yr. old boy suffering with diabetes. Yokoyama introduces the boy to Hanshin Tiger's Minoru Iwata who is also suffering the same disease.
Also, someone will soon be fulfilling wishes as Johnny's Jr.  Jesse was appointed as special supporter of refugee support activities by SHiDAX with the cooperation of United Nations High Commissioner for Refugees (UNHCR). Well, that gives him something to do.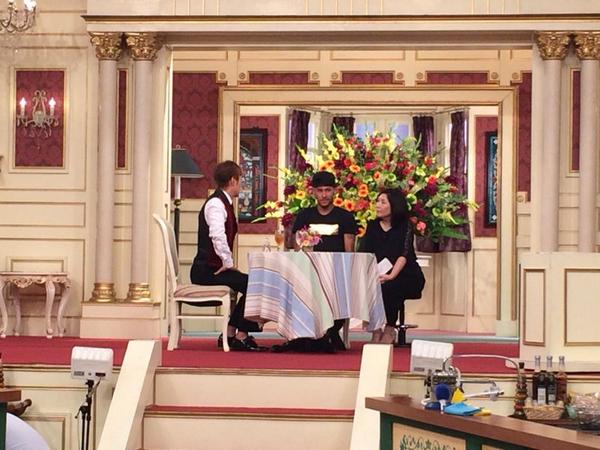 Lastly, all football aficionados will surely tune-in SMAPxSMAP and "Bistro SMAP" as they will have Brazil's Neymar as guest where he gets to sample SMAP's Japanese dishes.
That's all for now. I'm leaving you with this ultra-cute Nino gif.
via Livedoor news, Sponichi Annex, jnews1 and 2, and Sanspo