Some news and not-so news that I'm too lazy to translate but I still feel like you should know…or maybe not. Anyway, here is "Bits & Pieces" Digest 003 collated from Sept 4th to 6th. Invovled parties, are: Yamapi, Kikuchi Fuma, Jin Akanishi, Sakurai Sho, and Maruyama Ryuhei. 
Catch the TV premier of Yamapi's latest PV titled "Your Step" that was filmed in Los Angeles. "Your Step" will be the new song for his Fuji TV show, "Otona no KISS no Eigo" where he challenged directing. "Your Step" will be shown on Sept 7th and you check-out the site for more. BTW, the show is still looking for English-speaking families to hire Yamapi as a nanny.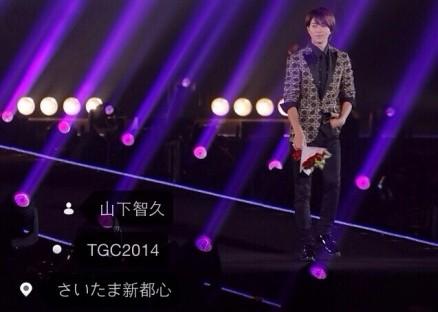 Speaking of Yamapi, he made a surprise appearance at Saitama Super Arena for TGC 2014 together with Komatsu Nana and Yamamoto Mizuki for "Kinkyori Renai". Sadly, Nakajima Yuto and Takaki Yuya aren't there even though the rest of Suikyu Yankees are present.
Sexy Zone's Kikuchi Fuma was seen in Disney Sea treating his siblings. Anyway, privacy aside, it has become a hot topic how Kikuchi dresses like Jin Akanishi. Well, we all know he worships Jin. Kikuchi's Disney Sea outfit is very much the same with one of Jin's outfit from his recently-released "WORK HARD,PLAY HARD" photobook as well as his outfit from KAT-TUN's "Keep the faith". Some even speculated that Kikuchi must have joined Jin Akanishi's fan club. This is LOL.
Speaking of Jin Akanishi, he arrived in Shanghai on Sept 6th for a show and he arrived wearing something that could pass as a dress. Let's all wait for Kikuchi to copy that one. Nevertheless, he received huge welcome from his Chinese fans.
Fancy moon-gazing with Arashi's Sakurai Sho? Well, you're not alone as 77 out of 300 respondents in Only Star also wished to see the moon with Sho. Other Johnny's who made the poll, are: Aiba Masaki, Ohno Satoshi, Kamenashi Kazuya, Ninomiya Kazunari, Matsumoto Jun, Domoto Tsuyoshi, Okura Tadayoshi, and Fujigaya Taisuke. In short, the rest are Johnny's except for #2 spot which is Fukuyama Masaharu.
"Jigoku Sensei Nube" have started filming last Sept 6th and Kanjani8's Maruyama Ryuhei arrives wearing a tuxedo and everyone was just impress. You're such a dear, Maru. Feel free to follow @DramaNube, the drama's official twitter account for more.
That's all for now. Since there's a Subaru rumor floating around, I'm leaving you this cute Subaru gif.