From a full-pack Johnny's lead dramas during summer, expect some shortage this fall not just with the number of dramas but also with the role choices as we have our idols playing two roles: teacher and student. If that didn't excite you to catch some of your idols dramas this season then I don't know how much more can I convince you. XD.
Here is a short preview of dramas that you must not miss this fall.
[All dramas included only stars Johnny's in lead role]
Starring : Nishikido Ryo (Kanjani8), Shigeoka Daiki (Johnny's WEST), Mitsushima Hikari, Nagayama Kento, Haru, Triendl Reina, Shirasu Jin, Kuroshina Yuina, Morikawa Aoi, Koseki Yuta, Suzuki Takayuki, Yamoto Yuma, Tomiyama Eriko, Hisamatsu Ikumi, Ryusei Ryo, Saito Yuki, Morishita Aiko, Enari Kazuki, Nakamura Shizuka, Hida Yasuhito, Shishido Miwako, Ueki Natto, Sakai Maki, Namase Katsuhisa, Kazama Morio

The gist : Nishikido Ryo plays Hara Heisuke, a teacher in an all-boys Buddhist school. To increase the number of students from the said school, the school decided to have a joint cultural festival with the nearby all-girls' school as sort-of trial event for possible merger between two schools.
What to expect : Well, we can see some plot similarities in Shiritsu Bakaleya Koukou except for the lack of yankis in this school drama. However, comparing it with Bakaleya might be blasphemous since "Gomen ne Seishun" isn't just simple school drama with Kudo Kankuro as the scriptwriter. This is Nishikido's and Kudo's reunion drama since "Ryuusei no Kizuna" and instead of angst-filled drama, Kudo will try to make Nishikido funny, which isn't really Nishikido's strong point after seeing him in Yorozu Uranai Dokoro Onmyouya e Yokoso. Still, Kudo is a phenomenal writer so he might be able to unleash Nishikido's comedy prowess.
Random flail : See Nishikido interact with one of his students and real-life kouhai, Shigeoka Daiki, who is playing one of his many students. Speaking of student, Nishikido could still play student roles.
Starring : Maruyama Ryuhei (Kanjani8), Chinen Yuri (Hey!Say!JUMP), Kiritani Mirei, Mokomichi Hayami, Jiyoung, Yamamoto Mizuki, Sakagami Shinobu, Takahashi Hideki, Nakagawa Taishi, Yoshizawa Ryo, Sano Hinako and Shimizu Kazuki
The gist : A modern re-telling of the classic anime where Maruyama plays Nueno Meisuke , part-teacher and part-exorcist, who battles demons using his "demon hand" to maintain peace at the school where he teaches.
What to expect : There are huge expectations for this live-action drama as the manga and anime have a huge fanbase. It'll be awesome if Maru can fulfill the expectations and it's up to the writers and director to make this equal, if not better, than the original. Nonetheless, expect Maru's trademark, which is scrunching his face, and more laughter as paranormal and comedy collides.
Random flail : See Maruyama and Chinen together as this will be their first work. I haven't got past the part of someone mistaking Chinen to be playing an elementary student. haha. Thankfully, this drama is set in high school. Speaking of Chinen, most of Yuto's co-stars from Suikyu Yankees will be here so they get to bond with Chinen after Yuto.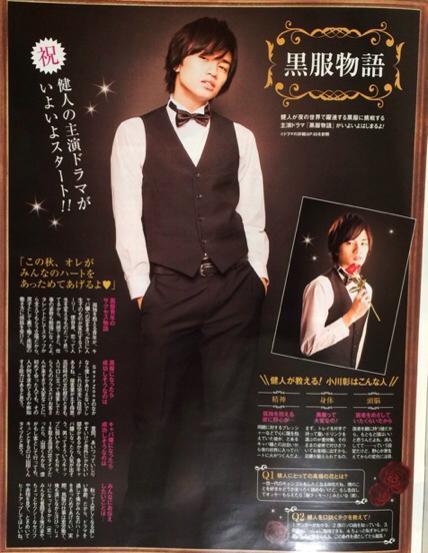 Starring : Nakajima Kento (Sexy Zone), Nozomi Sasaki, Yasui Kentaro (Johnny's Jr), Yamamoto Yusuke, Kashiwagi Yuki (AKB48), Nakao Akiyoshi, Yanagi Shuntaro, Sugimoto Yumi, Yanagi Yurina, Fukuyoshi Marina, Kaneda Ayana, Kurokawa Tomoka, Aiba Hiroki, Nakajima Hiroko, Jinbo Satoshi, Kitamura Yukiya, Kaname Jun, Takenaka Naoto, Miwako Kakei
The gist : Nakajima Kento plays a college ronin who fell in love at first sight with the beautiful hostess played by Nozomi. In order to get close to her, he goes to her club and starts working as a black-suited staff member and learns more about the ways of the world.
What to expect : If I'm right, this is NakaKen's second lead drama after Bad Boys J, which was only tolerable because of Fukka. XD. Hopefully, he has matured as an actor and can take on this type of role since he'll be dealing with the adult world. Aside from that, considering that he's younger than Nozomi, I wonder if they'll have enough chemistry to make people stay-up late and watch this.
Random flail : NakaKen being surrounded with lots of women but I just want to see how he will act alongside Yamamoto Yusuke and Kaname Jun.
Other dramas with Johnny's in minor/supporting role
 Okamoto Kei (Hey!Say!JUMP) in FIRST CLASS where he plays an intern, which is in a way still a student.
Junnosuke Taguchi (KAT-TUN) in Kyou wa Kaisha Yasumimasu where he plays a fellow salesman.
Fujigaya Taisuke (Kis-My-Ft2) in Nobunaga Concerto. I'm still not sure what will be Taipi's role but it could be one of the many soldiers or someone higher like a vassal or retainer.
In a nutshell, I want to see Gomen ne Seishun and Jigoku Sensei Nube. I even want to recap Jigoku but it will still depend on how much I like it. Anyway, there are lots of non-Johnny's dramas this season that I want to see so it's going to be crazy.
I'm not sure if this will be all for this Fall, September is about to end and JE haven't announced more dramas, so I'll keep this post updated.
For complete list of dramas starring Johnny's in lead or supporting role, click HERE
Image credits : k8cut and ktr_37