It's February, the dreaded month for singles. haha. Oh well, Mozilla keeps on crashing and lagging, which is where my tumblr account is so I decided to do this while I wait for the site to repair itself.
Here is my occasional Rants & Raves : Trailer
Jacket cover for Arashi's "Sakura" is out and the vibe is quite similar with their "au mobile" cm in the past
That's what my first reaction when I saw the jacket cover but you can never go wrong with black and white. It looks cool on them in contrast with the single's generic title. Even though the vibe is very much like Ouroboros, I was expecting them to be all pink since the song's title is "Sakura" but I guess they went for the unexpected route.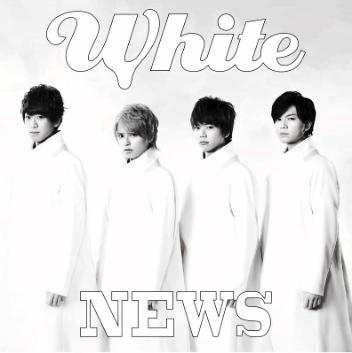 Jacket cover for NEWS "WHITE" album is also out
Well, the cover is expected that it looks boring. I somehow missed the bold colors of KAGUYA. Also, what are they wearing? Are they gonna enter some sort of seminary or monastery?
First trailer of Kimura Takuya's "HERO" movie is now out, you can check it HERE.
The first trailer doesn't really tell much about the movie but, ugh, Kimura looks older. I mean, he is old, but his face is scrunch-up that it shows age. I guess too much sun (since he surfs) and smoking can really damage your skin in the long run.
New (longer) trailer for Yamada Ryosuke's "Assasination Classrom" is now up at the movie's website, here.
The Yamada-heavy trailer looks cool and more interesting than reading the manga. The fighting scenes looks tame and the CG looks good too. Congrats to Yamada for getting this much exposure in his first movie. I can't wait for "Grasshopper".
New trailer for Ikuta Toma's "Yokoku-han" movie, check it here.
Ahhh! The movie looks fierce, Ikuta has his hair styled like that in "Nou Otoko", and I can't wait to see him together with Toda Erika. Toda always looks cool when she plays a detective like in SPEC. XD.
TOKIO's Joshima Shigeru will star in drama SP this spring for "Asahiyama Zoo Story 2015" where he will play a zookeeper
Another "job" to add in his expansive resume from being an idol, band leader, carpenter, and now a zookeeper. Not just any zookeeper, but a hippopotamus zookeeper, which is quite rare, I think.
Male celebrity ranking who are often mistaken as Johnny's, are: (1) Koike Teppei, (2) Wentz Eiji, (3) Miura Haruma; (4) Narimiya Hiroki; (5) Miura Shohei; and 6 and up, here.
LOL at WaT being in the Top 2, they do look like Johnny's and Eiji can be mistaken as Takki's little brother. I agree with the top 2, not so much with Miura Haruma since I know from the start that he's from AMUSE, Miura Shohei can also be mistaken for being in Johnny's. I guess it's because he starred with Kame and Jin among others in Gokusen 2. However, I have no idea how they could mistook Narimiya Hiroki as a Johnny. Seriously? I love Narimiya, he's an awesome actor but an idol? XD. Well, I must confess, I used to believe that Oguri Shun is in Johnny's. haha. I told this to a friend of mine and she was like, "can you see him dancing?". Well, no.
That's all for now! I'm leaving you  with gorgeous Yuto ad for AOKI with the Juniors.