This cast is simply amazing to past up!
It's been a long time since TOKIO's Nagase Tomoya had a note-worthy project and this will definitely be one of it. Nagase will be starring in a movie to be directed and written by Kudo Kankuro and he'll also be starring with one of the most talented actor of his generation, Kamiki Ryunosuke. The said movie is titled "TOO YOUNG TO DIE! Wakakushite Shinu (Juvenile Grave)" that tells the story of a high school student, Daisuke (Kamiki), who died in an accident before he could make a love confession to a classmate. Daisuke goes to hell where he will meet Killer K (Tomoya), a guitarist and vocalist of Jigoku-zu and adviser of Music Club from Hell's Agricultural High School. Killer K will help Daisuke to be reborn using a special demon training so Daisuke can claim his unrequited love.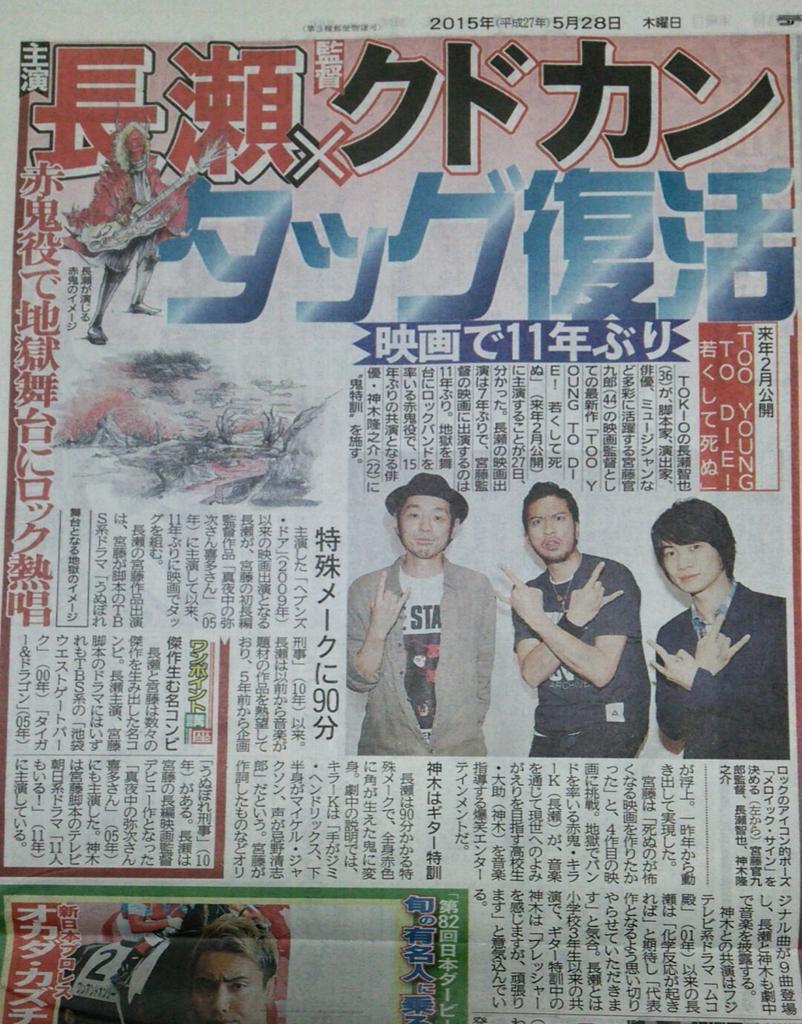 Since Nagase will be playing a guitarist and vocalist of a Hell rock band,which is not far from his real-life work,  there will be scenes where Nagase will be playing original songs for the movie and Kamiki will also be part of the band. Kamiki will be undergoing some intensive guitar and vocal lessons for his role. If Kamiki sounds as good as he acts, he's a winner.
Nagase have previously worked with Kudo in TV drama hits like "Tiger & Dragon", "Ikebukuro West Gate Park", as well as in Kudo's directorial movie debut, "Yaji and Kita: The Midnight Pilgrims". As you can see the pattern, Kudo always make Nagase a badass and "TOO YOUNG TOO DIE!" is no different since aside from being a demon, Nagase will be unrecognizable with his red make-up.  As for Nagase and Kamiki, the two have worked before in "Mukodono!" (2003) when Kamiki was only in 3rd grade.
"TOO YOUNG TO DIE! Wakakushite Shinu" have started filming this May and is set to hit the theaters next year, which is like million of light years away. Anyway, I'm just thankful that Nagase gets a new movie since his past dramas weren't that appetizing and you know he hit rock-bottom when he had to star with Gouriki Ayame.
via jnews1, Oricon Style and Cinema Today