It's been a stressful week and I just comfort myself knowing that all problems will eventually end and that all things lost will be replaced by something better. Sorry for being emo, but I'm really tired and stressed that I can't even look at myself in the mirror. haha. Anyway, since I'm feeling a bit "under the weather", forgive me if I'll be quite ratty with my occasional Rants & Raves : Handshake
Movie website and movie stills for Nagase Tomoya's "TOO YOUNG TOO DIE" is already out.
Super thank you that Nagase's face wasn't censored unlike with Yamapi in Terra Formars website. Nagase looks badass and still oozing with sex appeal, like, are all demons supposed to be like that? haha. On Kamiki, that's some hair straightener, I think that he really got himself prepared for his love confession but he ended-up being dead and he looks more like he has a college interview to attend. The visuals look amazing and I hope that the movie will be good too!
SMAP's Kimura Takuya "HERO" movie have reached 3 billion Yen in earnings. Aside from that, the movie also mobilized 3, 041,517 audience.
Omedatou Takuya! Now to the next news…
Catch Arashi interact with V6 and Hey!Say!JUMP in "Arashi ni Shiyagare". The said SP is a talk between "3 generations" in Johnny's.
Is this already over? I mean, this R&R have been in my draft box for the last 3 days so I'm not too sure if this has aired. Anyway, I wanna see this!
SMAP's upcoming new single, "otherside", which also happens to be the theme song for their TV show, "SMAPxSMAP" is composed by MIYAVI.
Now this is cooler news. I don't know if there's already a preview but I wanna hear how this will sound. I hope it will try to deviate from the usual SMAP-jpop tunes.
"Mr. King VS Mr. Prince" aka Kinpuri will continue their activities. The supposedly limited-time group will get to continue their idol activities. 
Congrats to the guys whose group's name is still MEH. Now all SixTONES fans are praying that their ichibans will be the next to get their own "road to debut" exposure.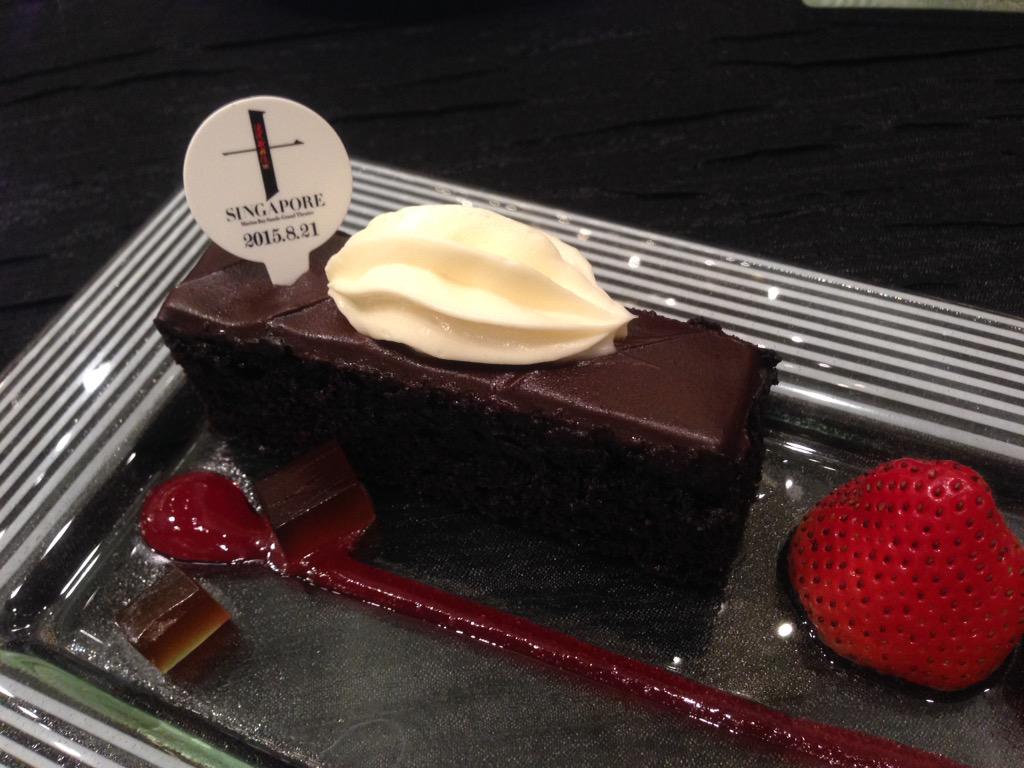 The cast of Takizawa Kabuki held a fan meeting last Aug 21st. A fan, @mikiru, is lucky enough to be chosen where she get to take home some goodies and even get to dine a "high tea set meal". 
Lucky, lucky fans! This fan meeting is like the equivalent of AKB48 handshake events, right? Only with Johnny's, fan meetings seems to be uber exclusive and you get like 3 seconds to smile and shake your idol's hands while the assistant gives you freebies. Okay, I'm just jealous, it's a good thing that Johnny did this thing even outside Japan. Other than that, the cake looks delicious. It has all the components of my favorite cake: chocolate, coffee jelly, strawberry, and a bit of whip creme.
Speaking of handshake, SMAP held a mini-Kohaku at Yamada-cho in Iwate. A handshake session followed. Yamada-cho is one of the towns that were badly affected by the 2011 earthquake.
It's been four years since the great earthquake and it's really sweet of Johnny's that they continue to do small and big things to bring entertainment to those who were affected. It might be just promotion or publicity stunt, but the smiles and gratefulness from those who were affected are genuine.
That's all for now, I'm hoping for a great week after all these stressors. To start off, I'm leaving you a gif with Kanjani8 doing one of their favorite hobby-raising their armpits.